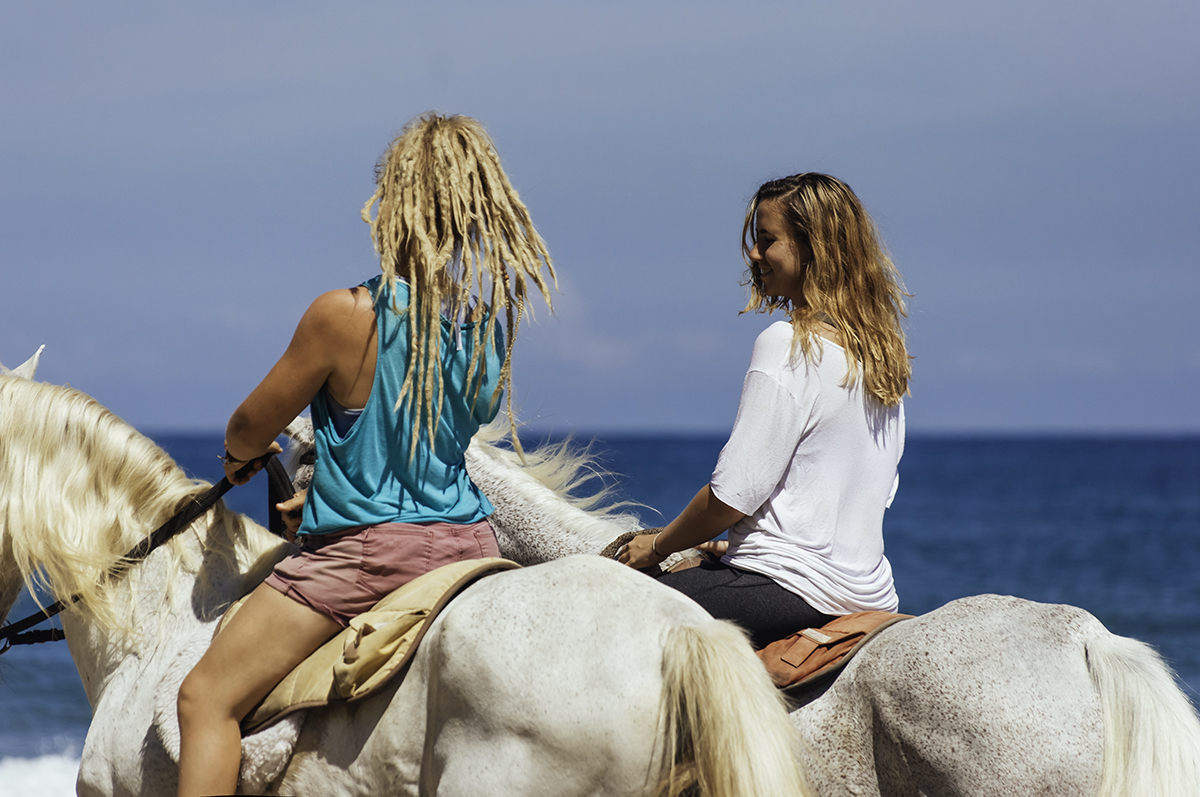 Scroll down for internships
The most valuable skills to have as a volunteer at Kindred Spirits are riding, cooking and/or farming, and we have a program for each of them.
* MINIMUM STAY OF 1 MONTH *
Volunteering for
HORSE LOVERS
Riding level
We ask that you come to us full of great experiences with horses as an intermediate to advanced rider. Have experience either as a riding instructor, horse trainer or as a guide on horse treks. This program is not for beginners at this point.
Responsibilities
5 hours of work a day, 6 days a week.
Feeding, mucking out and grooming the horses. Cleaning tack, brushes & buckets.
Learning holistic horse care and training for Natural Horsemanship.
Preparing horses before & after, for clinics & treks.
Work as Guide for horse treks.
Practice Community Karma (details ahead).
Any work with the animals always comes first, dedication, respect and love for all nature is paramount.
Please consider
Some might find this work to strenuous and physically hard, but it is not a question of being extremely physically fit, it is the passion and love we have for horses, that give us our strength.
For myself and many, it is pure joy to feed, take care of and be with horses. Even mucking out can become a meditative ritual, just as I find gardening and painting is, except you have the beautiful live and warm presence of the horse with you.
Volunteering for
FOOD LOVERS
EXPERIENCE level
You don't need a lot of experience with the serving industry, but we do require at least mid-level experience with cooking, specially vegetarian cooking, and either experience with veganism or a willingness to learn. A love for food is important, it's not about just putting food on the table, but having a real passion for your craft.
Responsibilities
5 hours a day, 6 days a week (more on this below).
Preparing lunch and dinner for anywhere between 4 to 12 people. The average is 7.
Preparing desserts (only) during retreats.
Serving on time.
Planning ahead and know what you need in advance.
Learning to work with local ingredients and having a curiosity for what the nature here has to offer.
Practice Community Karma (details ahead).
Please consider
The more organized you are, the breezier your experience. If you don't plan ahead, you're responsible for the amount of additional time it takes you to serve meals. There's no reason to exceed 5 hours a day, though many choose to simply for the love of experimenting in the kitchen.
Volunteering for
EARTH LOVERS
EXPERIENCE level
This is for anyone who has experience with landscaping, self-sustainable farms, low-tech systems, permaculture or medicinal plants.
Responsibilities
5 hours a day, 6 days a week (more on this below).
Your daily work will vary greatly according to your background and the kind of projects we can work on together.
Practice Community Karma (details ahead).
Please consider
It's the tropics, and whatever work you're used to will get harder with the tropical sun and humidity. Sun-lotion and hydration will be very important.
The Basics of Karma Yoga
In essence, Karma Yoga is the practice of giving and helping selflessly, while also being completely detached from the outcome. When you notice you can do something positive, you do it, because you can, and the fact that you can means you should, it's your part to play in that moment. In Karma Yoga these actions are your offering to God, but you can also think of it as making as much of a positive impact on the world around you as you can.
Being neutral towards the outcome is also important, your happiness should come from the action itself, and not whether or not it's rewarded, this way your happiness comes from within and can't be taken away by disappointment, frustration or even failure. You've done your best, and that's all that matters.
At the farm we call this Community Karma, the Karma we create in the space we're sharing together for a moment in time. In daily practice this means noticing how you can help the volunteer that shares a house with you, for example making sure you're doing your duty in keeping the place clean and avoiding phone calls when you know they're sleeping. Karma extends to the horses, making sure you don't upset them by feeding them late, giving them a scratch in their favorite spot. Washing the dishes we've used in our meals together, and doing so with love and mindfulness, instead of getting agitated you focus on your actions and find peace in them.
Home Tree
Named by one of the first volunteers to call it home, Home Tree is the house you'll be sharing with one other volunteer or intern (sometimes two).
DETAILS
2 Private rooms with double beds and mosquito nets.
Shared kitchen equipped with a small oven, stove, fridge, blender, small french-press and basic utensils.
Shared bathroom.
meals
We strive to keep it as seasonal, organic and vegan as possible. We can also accommodate any food allergies you might have.
breakfast
Breakfast you make yourself, while I provide a weekly package of seasonal fruit, coffee & tea, eggs, butter, jam and milk. Depending on your diet some things can be substituted, such as oats instead of eggs.
LUNCH
We all (volunteers, interns, guests and me) come together at the main house for lunches and dinners. A lunch will typically consist of two or three types of salad with bread or tortillas, but it all varies with each cook and their inspiration.
DINNER
Dinners are typically curry, vegetarian stews, vegan loaf, etc.
INTERNING AT KINDRED SPIRITS
* MINIMUM STAY OF 1 WEEK *
Our paid internships are designed for horse lovers only. We ask that you have a keen desire and passion for horses and a willingness to learn.
We offer shared lodging in the Caribbean jungle house & meals with all activities bellow for $500 a week.
ACTIVITIES
Audit in Clinics given throughout the year at no extra cost.
Participate in Clinics at a discount (audit for free, as mentioned above).
Join treks & rides when they're available.
Practice Natural Horsemanship training methods such as Carolyn Resnick's Clicker training and Linda Tellington Jones's methods.
Ride our horses, play with them & exercise them while learning our natural horsemanship ways.
Learn how to give massages, recognise acupressure points, use essential oils, aromatherapy and practice other holistic methods used here for healing and making our horses happier.
Learn holistic horse care and the basics of barefoot trimming.
4 Yoga classes a week.
One riding lesson with horses per week.
One Liberty work lesson with horses per week.
One Yoga with Horses class.
FULL ACCESS TO
Make use of our extensive library of DVDs and books on Natural Horsemanship Trainers from around the world.
Enjoy the surrounding nature and all the tours available at basic cost.
Free yoga classes and use of Yoga Shala.
RESPONSIBILITIES
3 hours of work a day. 2 free days to enjoy the area and explore.
Feeding and grooming the horses.
Learning holistic horse care and training for Natural Horsemanship.
Garden work as you learn about organic gardening, permaculture and medicinal plants.
You will also be expected to help with communal meal preparation, putting things away and washing dishes.
Keep your living area tidy and clean.
Want to join the jungle farm?
Tell us a little about yourself,